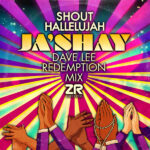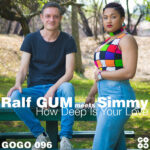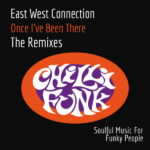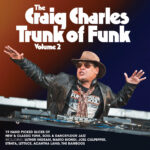 Schon warmgelaufen? Schließlich hat's draußen gefühlt schon den Gefrierpunkt, während die akuten Tendenzen rundherum auch nicht gerade zu unbefangenem Aufwärmen bei öffentlichen Tête-á-Tête Veranstaltungen ermuntern. Wue gut, dass ihr euch zumindest auf den wochenendlichen 4er-Pack aus den SonicSoul Räumlichkeiten verlassen könnt. Nicht wahr?
JA'SHAY "Shout Hallelujah (Dave Lee Redemption Mix)"
Liz Yancey ist Ja'Shay. Endlich Wochenende – also "Shout Hallelujah!". Anno 1998 forderte uns Liz schon zu entsprechendem Tun auf – die nun vom stets zuverlässigen Dave Lee angespitzte Version gibt uns nun erst recht Erlösung von aller Last, die uns im Verlauf der Woche immer mal wieder ein wenig Freude gekostet hat. Nun aber Soul-House-Disco-Gospel in Vollbedienung. Und ab geht's.
RALF GUM meets SIMMY "How Deep Is Your Love"
Eine ganz andere House-Nummer. Ralf Gum verlegt einen seiner vom weltumspannenden Rhythmus geprägten Grooves – munter-erfrischend und luftig, dazu zurückhaltende Instrumentierung, die der Wirkweise der zauberhauften Vocals der Simmy vollends entgegenkommt. Go-Go-Gum par excellence!
EAST WEST CONNECTION ft. PETE TROTMAN "Once I've Been There"
Zurückkommer der Woche. Nach 15-jähriger Unterbrechung meldet sich das Chillifunk wieder zurück, Das Label wurde von einem gewissen Lofty und dem Dr Bob Jones im Jahre 1998 auf den Weg zu den besten Tanzflächen geschickt, um diese nach Art des Hauses ordnungsgemäß zu beschallen. Motto: Soulful Music For Funky People. Daran hat sich selbstredend auch nach längerem Stillstand nix geändert – Lofty und Bob geben uns als East West Connection eine eine brisante Variante des Norman Connors Klassikers "Once I've Been There" unter die Füße, Soul-Vocals von Pete Trotman obendrein. Der "Philly Disco Mix" ist erste Wahl, weil der Name ist Programm.
THE CRAIG CHARLES TRUNK OF FUNK "Volume 2"
Und wenn dem Vor-Ort-DJ allmählich die Puste ausgeht, oder aus anderweitigem Grund der Party neues Leben eingehaucht werden muss, bietet sich vorrangig eine der allseits bewährten Komplilationen des Craig Charles an, dem legendären "Lifelong Soul Boy", der zudem seit über 20 Jahren als erfolgreicher Gastgeber diverser BBC Radio-Shows fungiert, weltweit als DJ gefragt ist. Soul und Funk aus vielerlei Epochen, diversen Quellen, aber mit immer mit dem Craig-Charles-Siegel für Qualität. Nun also eine zweite Auswahl aus seinem randvollen "Trunk Of Funk" – 19 sichere Tanz-Nummern, zwischen 1966 (Luther Ingram) und 2021 (Joel Culpepper, The Allergies etc.) eingespielt und in munterer Abfolge vom Meister an den Start gebracht. Mit dabei einige Hits aus der SonicSoul Playlist (Joseph Malik, Jay Nemor, Str4ta, The Bamboos..), oder Stars, bekannt aus Funk und Fernsehen. Aber eben auch handfeste Knaller bis dato unbekannter Herkunft, sowie zwei "exclusive Trunk Of Funk Remixe". Kein Wenn, kein Aber – Craig Charles läuft in Dauerschleife bis zum frühen Morgen. Viel Spaß!