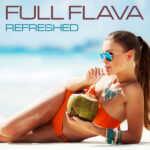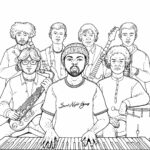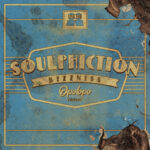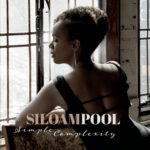 Unsere Wochend-Selektion. Da wir uns dazu entschlossen haben eure Zeit mit einleitenden Gedanken gleich welcher Art nicht weiter in Anspruch zu nehmen, bitten wir also ganz direkt auf die Tanzfläche. Bitte suchen sie sich einen passenden Partner (oder auch nicht) – wir machen die Musik dazu. "Licht aus – Spot an", wie der Ilja immer zu sagen pflegte.
FULL FLAVA "Refreshed"
Der perfekte Aperitiv. Erfrischend und animierend. Full Flava ist der Rob Derbyshire, der seit über zwei Dekaden unter diesem Titel seine Idee guter Tanz-Musik zum Besten gibt. Flotte Beatz, eindringliche Hooks, klare Strukturen. Seit einiger Zeit füttern uns die Dome Records bereits mit Appetizern zum "Refreshed" Album, auf dem die Hits mit Full Flava von der ersten Garde des britischen Mix-To-Max Geschehens (oder eben vom Ron höchstselbst) auf den neuesten Stand gebracht werden. Insgesamt 20 Dancefloor-Filler, allesamt auch im zweiten Anlauf noch in Bestform und durch die unfehlbaren Soul-Stimmen von Carleen Anderson, Kelli Sae, Donna Gardier, Chantay Savage, Joy Rose, Dee Johnson, Donna Odain, Izzy Chase, CeCe Peniston uns Hazel Ferndades ohnehin eine Ohrenweide.
SECRET NIGHT GANG "Wanna Be With You"
Pause mit Intermezzo. Die Secret Night Gang aus Manchester treten auf die Bremse, um mit "Wanna Be With You" ein ganz reifes Stück vom SoulJazz (oder JazzSoul) vom Stapel zu lassen. Funk bis Disco verbleiben in Ruheposition, wenn die jungen Leute der SNG den Harmonien freien Raum geben und rundherum die Hörner-Sektion zu großer Form aufläuft. Wir schließen uns dementsprechend dem Gilles Peterson an, wenn dieser sagt:""Incredibly complete music, tight arrangements and with far reaching musical ambition".
SOULPHICTION "Bizzness (Opolopo Tweak)"
Opolopo gibt die Strecke wieder frei! Im Auftrag der schweidischn Firma Local Talkm durfte sich dieser in den Archiven des Labels austoben. Der Auftrag lautete: Finde deine 10 Favoriten und mach' das Beste daraus! Also legte der Peter Major los, fand Soulful- Deep House in wohlklingender Ausführung und setzte seine Tweak-Klinge an. Soulphiction gibt, und hinterlässt, genau den verschärften Eindruck, den wir für die heutige Club-Nacht auf dem Plattenteller sehen wollen. Das Album dazu dann ab dem 19. November.
SILOAM POOL "Til The Day"
Sonntags-Jazz. Siloam Pool aus Detroit. Ihr Debut steht als "Simple Complexity" ab dem 29.10. auf dem Programm. Die Basis ist Jazz, der Inhalt ist Soul. Fusioniert in frischer Manier, in glasklaren Arrangements und in einer erstaunlichen vielfätigen Song-Auswahl. "Til The Day" vermittelt einen ersten Eindruck dazu, wir freuen uns also auf's Album, nicht ohne allerdings eine Art Selbst-Beschreibung des eigenen Sound-Bilds zu hinterlassen: "Diana Ross meets Incognito". Aha!