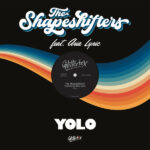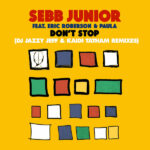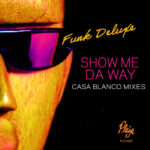 Höchst konzentriert. Aber wohl nicht auf's Wesentliche. Wir treten hier und jetzt nicht nach, sondern wagen den Schritt auf die Tanzflächen der britischen Hauptstadt. Keine Ahnung, ob es irgendein Beteiligter bis dahin überhaupt schafft, wir wollen aber dennoch die besten Beatz des Tages für ein wenig Zwischen-Freude auslegen. Unter Garantie ist der Shapeshifter, der ansonsten als Simon Marlin unterwegs ist, mittels "Yolo" der geeignete Kandidat für jedweden Tanz-Spaß. Der Beat elastisch, das Arrangement mit erlesenen Disco-Flavour, die Linie wie aus dem Windkanal. Ganz tolle Nummer – "written with every intention to uplift and unite people". Genau so.
Sebb Junior. Frisch aufgemischt. Sein "Don't Stop" drehte im Original schon 2020 seine Runden – natürlich legen DJ Jazzy Jeff und Kaidi Tatham noch ein paar Beat-Schippen obendrauf und sorgen so dafür, dass das Ding im Dauerlauf bleibt. "Don't Stop" hat natürlich auch eine leichtlaufende Hookline, dazu die Paula (Champion), den Eric Roberson als stets zuverlässige Star-Power und das unermüdliche Reel-People-Team, dass wieder einmal die Konkurrenz auf die Plätze verweist.
Funk Deluxe. Randy Muller. B.T. Express, Brass Construction, Instant Funk und eben auch Funk Deluxe. Und so weiter. Der Mann hat also einen legendären Ruf, ist immer noch vielfach aktiv. Und jetzt in aller Munde und allen Tanz-Beinen, weil sein 93er "Show Me Da Way" vom Robbie Casa Blanco für die 2021er Dancefloor-Aktiväten aufgebürstet wurde. Ein Groove für alle Fälle – ordentlich beschwingt, effektiv und passgenau (ganz wichtige Sache!) für die Erfüllung jedweder Ansprüche.