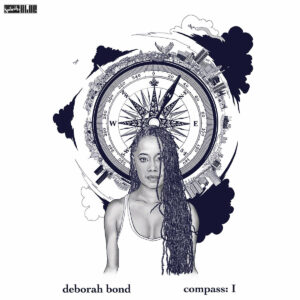 Der innere Kompass. Deborah Bond gibt erste Einblicke in ihr neues Album frei. Nachdem ihr "radio" bereits seit Ende Januar auf Sendung ist und seitdem kontinuierlich den Wunsch nach mehr Sendezeit in uns geweckt hat, wird es nun endlich am 5.3. soweit sein. Neun frische Songs – zwischen "Time" und "Atlanta", über deren Entstehungsgeschichte die Deborah folgende Hintergründe preisgegeben hat:
"compass: I ", an album created from a personal moment of journeying
•set in motion by life changing endings and new beginnings.
•exploring self awareness, new love/intimacy, & worldly circumstances
•conceived in 2020 after a bumpy 4yrs
•quarantine opened a creative portal to write & record the album, all within 7 months.
•all vocals recorded in my living room.
•all live instruments recorded in home studios from DC, to Bmore, to Richmond, to LA to Boston, to Nashville, to London…
•created with extreme thought
•hand sketched art, no color, lower case words, harder drums, a layer of grit
•COVER ART by the amazing Terron Sorrells
•there's a story in the details, zoom in
•i wanted this to feel hard..
so I highlighted the drums featuring the illest of the playas.
This one is for ME… For YOU and for healing."
Die Sache mit dem Schlagzeug konnten wir schon mit Nachdruck der Vorab-Single entnehmen, auf der Corey Fonville stramm zu Werke gegangen ist. Dem Vernehmen nach wird hauptsächlich der Nate Smith die Takte vorgeben, die von Brandon Lane, Trey L. Sorrells (auch am Saxofon hörbar), Blacksix Electronica, Dre King und Jammal Smith produziert wurden.
Ebenfalls nicht untätig waren u.a. DJ Harrison (Butcher Brown) und Gordon Chambers, von dem wir ebenfalls seit geraumer Zeit keinen neuen Ton mehr vernommen haben.
Zur weiteren Vorbereitung gibt's eine 2-minütige Zusammenstellung der auf "compass: I" versammelten Musiken – deren von DJ QueenZeb (aka Deborah Bond) aufgemischte Sounds & Visions lassen genügend Spielraum für Erwartungen jedweder Art.