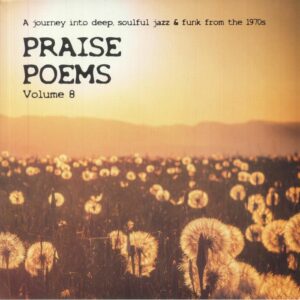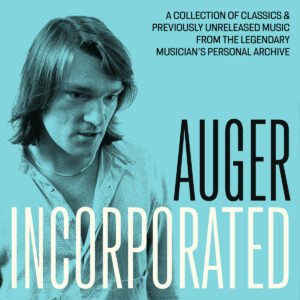 Eine ganz-normal bunte Woche im SonicSoul HQ. Jazz trifft neuen Soul, begeistert sich für Pop und die Klassiker aus den Katakomben. Jeden Tag neu, jeden Tag ein neuer Tag. Toll, nicht wahr? Daher nimmt's wohl kaum wunder, dass wir heute mal mit den Schätzen beschäftigen, die in den (Un)tiefen irgendwelcher Archive schlummern.
PRAISE POEMS "Vol 8 – A Journey into Deep, Soulful Jazz & Funk from the 1970s"
Zwecks Wieder-Entdeckung derartiger Preziosen braucht's natürlich absoulute Experten mit jahrelanger Erfahrung, Sachkenntnis, Ausdauer und Glück. Natürlich ist der Tobias Kirmayer für derartige Aufgaben der richtige Mann – die hörbaren Resultate seiner Ausgrabungen sind stets überaus erstaunlich und rundum lohnenswert. Von besonderem Reiz sind seine Praise Poems Kollektionen, die ein weiträumiges Genre-Spektrum aufspielen lassen: Jazz, Soul, Funk, Pop, Rock (natürlich in der beliebten Yacht Rock Variante) und Folk gehen nahtlos ineinander über – dazu überall Verzweigungen und Verweise. Ein wunderbares Sound-Füllhorn von höchstem Unterhaltungswert und von ebensolcher Qualität. Der 8 Teil der Praise Poems versammelt insgesamt 18 dieser Spezialitäten aus den späten 60ern und frühen 70ern, die nun nach jahrelangem Schattendasein auch unter der natürlichen Patina ihren Zauber nicht verhehlen können. Und spätestens beim Abhören des Hans Hass, und seiner "Welche Farbe hat der Wind" Fragestellung (der Gitarrist ist ein Meister seines Instruments und von sich, und seinem Tun, rundum mitgerissen – dazu tolle Effekte, ein furioses Finale und ein Sänger, der die Worte seines Texts noch vollends ernst nimmt) ist jeder Widerstand zwecklos. Also los, diese "Journey into Deep, Soulful Jazz & Funk" sollte man sich nicht entgehen lassen.
BRIAN AUGER "Auger Incorporated"
Gilt natürlich auch für Brian Auger. Die Leute vom SoulBank Label bot sich die Gelegenheit gemeinsam mit dem Brian selbst dessen persönliche Musik-Erinnerungen zu erkunden. 60 Jahre gilt der Brite als Groß-Meister des Orgelspiels – stets flexibel die Grenzen zwischen Jazz, Soul, Blues und Pop auslotend und dabei oftmals sogar als "hip" geltend. Natürlich zählt insbesondere sein Zusammenspiel mit der Julie Driscoll während der Swingin' 60s dazu. Deren Band nannte sich Trinity, "Light My Fire", "Wheels on Fire" oder "Road To Cairo" waren die Hits, "Open Door" und "StreetNoise" die Alben dazu. Irgendwann wurde "Jeannine" eingespielt, nie veröffentlicht, aber jetzt als Einsteiger zu "Incorporated" mit dabei. Gut so. 6 weitere Raritäten, dazu umfassende Ausschnitte aus der Oblivion Train Jazz-Soul-Rock-Fusion Zeit und weitere Spezialitäten, die dem außerordentlich guten Ruf des Brian Auger deutlichst gerecht werden.