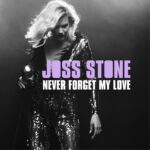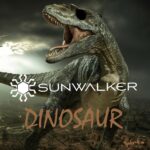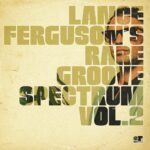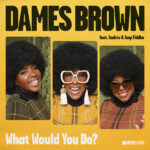 Ungemütlich! Als Soforthilfe empfehlen wir heute:
DAMES BROWN ft. ANDRÉS + AMP FIDDLER "What Would You Do?"
Drei Damen aus Detroit. Mit ordentlich Feuer in allen Abteilungen. Kein Wunder, dass beim Abhören sich alsbald aufsteigende Hitze einstellt. Athena Johnson, Teresa Marbury und LaRae Starr verdichten die Groove-Statuten der (immer noch) Motor-City, lassen sich von einer hochverdichteten Soul-House-Funk Kombi antreiben, die von Amp Fiddler und Andrés ausgekungelt wurde und jedwede Elektro-Option alt aussehen läßt. Zumindest in Sachen Beat steht die Ampel auf grün.
SUNWALKER "Dinosaur"
Andy Richardson ist der Sunwalker und als solcher bekannt für gewisse Eigenarten. Der "Dinosaur" ist seine erste Tanz-Nummer nach 5-jähriger Abstinenz und liefert den eindeutigen Nachweis, dass die steinalten Jazz-Funk Findlinge keinerlei Patina angesetzt haben. Absoulut rundlaufende Nummer mit in Töne gemeißeltem, flotten Beat, dessen Leichtigkeit sich in Melodie und Arrangement wiederfindet. Warum sich der Andy allerdings dazu derart in Schale wirft (siehe Video) sollte mal sein persönlicher Traum-Deuter erläutern.eyond"
LANCE FERGUSON "Far Beyond"
Der australische Tausendsassa. Zwischen den geistigen Tiefen und Höhen des Jazz und der Erdverbundenheit des Retro-Soul. Lance Ferguson kann's sich leisten, denn in allen Katgorien, und zwischen den Genres, spielt er großartig auf. Und auch wenn es um die Neu-Auflage früherer Hits und Tipps geht, hat er immer wieder ein paar Asse mehr im Ärmel. Sein "Rare Groove Spectrum" spielt genau diese Karten aus, setzt auf sog. "Live-Edits" von "classic tracks, traversing jazz funk rarities, balearic digs, latin groovers and more". Mit am Werk waren auch für den zweiten Teil des Spektrums die Könner aus seinen diversen Bands, die sich zur Einstimmung das von Dave Lee für seine Sunburst Band mit nachhaltigen Samples von Ahmad Jamal angereicherte "Far Beyond" zur Brust genommen haben. Jazz-Funk der Extraklasse! Das Album dazu dann am 28.01.2022.
JOSS STONE "Never Forget My Love"
Joss Stone – wieder da, wo sie am besten klingt. Zurück von 2015er Reggae-Trip, und direkt in die Arme des Dave Stewart, mit dem sie bereits 2011 mit "LP1" am Start war. Dave Stewart? Eurythmics? Sicher, Zweifel dieser Art dürfen erlaubt sein. Mit einem großen Bogen in Richtung Musik-Geschichte ("You know – think of Dusty Springfield, Burt Bacharach, Dionne Warwick – those kinds of classy, timeless songs. Think long gloves and a dress.") kann sie zumindest schon mal verbal punkten. Den finalen K.O. in Richtung der oben geäußerten Bedenken versetzt sie uns jetzt mit "Never Forget My Love" – einer genau auf oben geplanter Sound-Schiene laufenden Midtempo-Soul Nummer mit feinem Retro-Gespür – rundherum eingekleidet in vollstem Streicher/Hörner-Ornat. Durchaus angenehm.