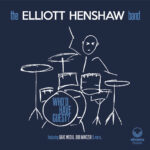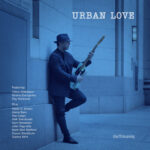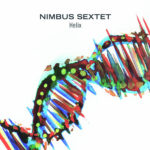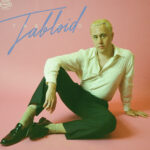 Tanzpause! Oder auch nicht. Denn schließlich geht's nicht darum, wie's aussieht, sondern wie man sich fühlt – oder so. Wir begeben uns jedenfalls an diesem Wochenende nicht unter den irrlichternen Einfluß bunter Disco-Kugeln, sondern lassen mal irgendwas mit Jazz auf's Gemüt wirken. Auf geht's.
The Elliott Henshaw Band. Ein Mann mit Schlagzeug. Un mit selbigen immer zur Stelle, wenn's am nötigen Beat fehlt. Unzählige Sessions in jedwedem Genre pflastern seinen Weg, der ihn aber eben auch immer wieder am Jazz entlag führt. Seine eigene Band ist ein flexibel-großzügig agierendes Gefüge, dass immer wieder von spannenden Gästen besucht wird. Bob Mintzer und Dave Weckl sind so zu hören, insgesamt geben 23 Musiker:innen ihre Visitenkarte ab, um die Jazz-Fusionen des Elliott Henshaw mit den passenden Tönen zu versorgen. Das Programm ist überaus variabel, beeinfluss von "Dave Grusin, The Yellowjackets, Al Jarreau oder David Sanborn", wie Elliott anmerkt. Das weiß man also, was man hat.
Duffmusiq. Gitarrist und Produzent aus Kanada. Zuletzt mit einem bemerkenswerten "Sideway Sequel" auffällg geworde, obendrein produzierte er das Debut der Quisha Wint und begibt sich jetzt schon wieder auf die nächste Runde. "Urban Love" ist feinstes Gitarrenspiel, gern unter Jazz und Blues Einfluss, kombiniert mit gut gefächerten Soul-Stimmen. Wade O'Brown, Quisha Wint sind beteiligt, aber auch Selena Evangeline, mit der wir locker swingend auf der "Road To Heaven" wandeln. Jazz, mit Pop und Soul, ganz luftig und auf klickender Groove-Schiene. Gefällt uns gut.
Tabloid. Eigentlich Johannes Wamberg und seine Freunde. Aus Kopenhagen frisch auf den Jazz-Fusion Tisch. In engem Zusammenspiel, auf fließenden Grooves, die durchaus auch mal die Tanzfläche streifen, spazieren Johannes Wamberg (Gitarre), Jonathan Bremer (Bass), Oilly Wallace (Saxophone), Felix Ewert (Schlagzeug) aud Malthe Rostrup (Keys) durch ein vielfältiges Sortiment, dessen Jazz-Anteil meist höhere Sphären erreicht, als auf dem derzeit schon hörbaren "Ile Flottante".
Nimbus Sextet. Hat sich mit ihrem Debut ihre "Dream Fulfilled". Macht aber noch lange nicht Schluss. Sondern ruft mit zwei neuen Musiken die vielfältigen Möglichkeiten des Sechser-Packs wieder einmal ab. Während das fast 11-minütige "Helix" selbst eine durchdachte Jazz-Tour durch die Vorlieben der einzelnen Team-Mitglieder zu sein scheint ("…starts with a gospel tinged Jazz-Funk groove and moves to a pensive Neo-Soul sequence into Eastnern-European/Klezmer influenced Jazz classic late-sixties Fusion. The track finishes with a Latin-Rock ballad epilogue utilizing the Octaver effect on the guitar solo.", gibt uns ihre Version des "Lowrider" (von Yussef Kamaal aus deren Album "Black Focus", und nicht von War) einen rundum beweglichen Jazz-Funk in die Beine. Außerdem im Angebot: ein weitere tanz-Version des "Trap Door" Hits (dieses Mal im "Born74 Boogie Funk Mix") und "Deep Dark Blue Lights" in der Bearbeitung von Chris Read.