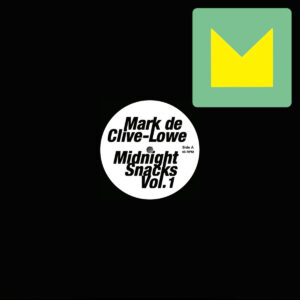 Mitternacht. Zeit für ein paar verwegene Grooves und Mashibeats aus dem Studio des Mark de Clive-Lowe. Vier Auszüge aus dem Repertoire des BrokenBeat-Dance-Jazz Vordenkers, der in seiner eigenen Manier ein paar musikalische Snacks zur allgemeinen Erbauung anbietet. Und da uns der Macher höchstselbst ein paar Worte der Beschreibung mitliefert möchten wir uns an dieser Stelle mit den Bemühungen um eigene Deutungen zurückhalten und folgen stattdessen uneingeschränkt den hier folgenden Ausführungen:
"Opening with "Joyful Resistance Part 1" – created at the peak of last Summer's social uprisings in the US and around the World, spiritual Jazz piano gives way to a head-nod 3/4 Hip Hop sonic adventure of hope. "Blue Hour" bring us into sunrise-House territory with signature harmony and piano leading the way over lush strings. Side B opens with "37,000 Feet" – a soundtrack to flying high in the skies and the anticipation of going somewhere new with broken beat drums, rhodes and free-wheeling synths taking us all the way there. Closing out the EP with a banger, "Thanks Given" brings us the broken-boogie – playful harmony and melodic flourishes oozing with uplifting goodness. Synth and piano solos ice the cake rounding out this first installment of "Midnight Snacks".
Viel drin in Teil 1, vorbestellbar ab dem 09.04. – und Teil 2 ist wohl schon in Vorbereitung.