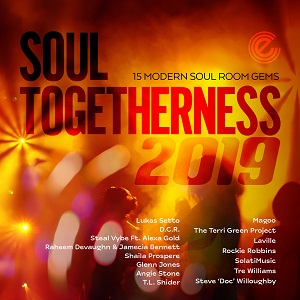 Der Herbst 2019 kündigt sich an! Und damit natürlich auch die Kompilation, die uns seit nunmehr schon 20 Jahren den Oktober vergoldet. "Soul Togetherness 2019" steht in konzentrierter Tanz-Klasse seinen 19 Vorgängern in nichts nach – fünfzehn Auszüge aus den besseren Playlists der noch laufenden Saison – selbstredend jeweils mit ordnungsgemäßem Tempo und mit genau den Feinheiten in den diversen Song-Abteilungen, die den Unterschied ausmachen. Zumindest dann, wenn es nach Ralph Tee, und seinem Teem, geht…
Alle Infos zu Boogie und Disco und R&B und Soul der diesjährigen Ausgabe finden sich im Begleittext, den wir hier schon mal zum Besten geben:
Lukas Setto: "What Turns You On"
A signature song for 2019 is without doubt "What Turns You On" by Lukas Setto, a London artist who started the year with this first single and reached equal heights through the summer with "OMG (Oh My Gosh"). Lukas studied popular music at Stanmore College and received The Urban Music Award for Best Unsigned Artist (under the name of Lee Henry. 'Setto' is his nickname from college for his smooth falsettos). Under his pseudonym Tru Menace he has worked as a producer/remixer for artists like Omar and Chris Brown, supporting Omar at "The Jazz Café and Portrait at "Under The Bridge". 2019 is only the start of the Lukas Setto journey in which has already been called the UK's Maxwell and released the quality of soul we crave at a challenging time for the music we love.
D.C.R.: "Positive Vibes"
D.C.R. is London based singer Dawn Claudette Rose who we welcome to our music scene this year with a terrific self-released song. The track is based in 80s old school groove as is so much of what we enjoy right now, produced by Michele Chiavarini who is both an artist himself and familiar to us through how work with Tyrone Henry, Tracy Hamlin, Beat Rivals & The Sunburst Band. Dawn combines her fashion and dancing skills in her video for "Positive Vibes", not to be missed on YouTube.
Steal Vybe Ft. Alexa Gold: "Make It Last Forever"
Steal Vybe are Chris Forman and Damon Bennett who first formed in the mid 2000s. Chris recorded some tracks as DJ Cee Rule, Damon featured on flute for artists including Jay Z, Glenn Lewis, Vivian Green and Kindred The Family Soul. "Make It Last Forever" comes from their third album "Generations" which is a mix of soul and house styles. The song was first recorded by Donna McGhee in 1978, and then Inner Life with Jocelyn Brown in 1981 and Steal Vybe have done well to come up with such an incredible version.
Raheem Devaughn & Jamecia Bennett: "Need To Know"
While from 2016, this only came to light more recently through Balu Mathews of Soul Japan Records acquiring CD copies of "Love Jones", not the movie soundtrack but the completely different musical theatre version sold at shows. When it comes to a 'steppers' tune, this ticks all the boxes at the quality end of the genre, especially with the joint vocals of Raheem and Jamecia. Soul Japan has also issued the track on 7" single.
Shaila Prospere: "Plus One"
UK soul singer Shaila has been prolific again this year with her soulful dance tunes both on the dance floors and at the top of UK soul charts with "Plus One" and "You're Rich". It's all with new music since her 2017 album "Back To Life" and reunites her again with songwriter/producer Michael Daley alongside none other than Lee Henry, aka Lukas Setto so you know this is pure quality.
Glenn Jones: "You & Me"
Glenn Jones has one of the finest voices in contemporary soul. He has been celebrated since his time with The Modulations, then with Norman Connors and across his much loved albums for RCA, Jive, Atlantic and new leading independent label Talent Room Entertainment. At a time amazing voices such as his are so rare, it is exciting to learn of a forthcoming album titled "Love By Design" from which "You & Me" is a featured single, a song first recorded by Exile in 1978 then more prolifically by Rockie Robbins. Making songs his own is what Glenn does so well, and we look forward to both his new album and upcoming live dates including an appearance at the January 2020 Luxury Soul Weekender with R&B Soul Singer Meli'sa Morgan.
Angie Stone: "Same Number"
Angie Stone needs no introduction, we go back with her to Sugar Hill Records, her spells with Vertical Hold, Devox and those amazing solo records for J Records, not least "I Wish I Didn't Miss You" which has become a modern soul room standard. On her new album "Full Circles" she works with an impressive cast, not least on this track which gives us everything we love about Angie's voice and her music.
T.L. Shider: "Need Somebody To Love"
Timothy 'T.L.' Shider comes with some very impressive studio credentials as musician, arranger and producer. He has played on records for Alicia Keys, Trina Broussard, Kenny Lattimore, co writing "Things We Do For Love" for Horace Brown, "All Through the Night" for P.O.V and "Sexy Side Of You" with George Clinton. He has had numerous digital releases, his new album "Some How Some Way", from which comes "Need Somebody To Love", only available from his website at tlshider.com. The song, groove, vocal and production are all of such high quality. Essential for this year's collection.
Magoo: "Still Really Love"
Magoo is French singer, songwriter, musician and producer Philippe Bouthemy who's love of the 80s boogie sound first materialized on his debut album "Dr. Boogie" in 2005, then there was the self-titled Magoo album for Boogie Times in 2010 ahead of this year's set "Let's Have A Boogie" including "Still In Love" which is just such a great sounding record with a flavor of what groups like Midnight Star were doing back in the day. Magoo has also worked with D-Train, Imaa, Marshall Titus and Saskia.
The Terri Green Project: "Giving It Up"
"Giving It Up" got 2019 off to a flying start for The Terri Green Project, first in this original mix, and then bonus mixes and follow up tracks "Dance Tonight" and "What A Feeling" ahead of a forthcoming album. The group is based out of Hamburg, Germany with primarily vocalist Terri Bjerre. aka Terri Green on vocals and keyboard/sax man Torsten Abrolat, in charge. Musically they take from all the great artists we love in our genre, "Giving It Up" dominant on soul radio platforms across the year.
Laville: "Thirty One"
What an amazing artist Acid Jazz have found in North London soul singer Laville. "Thirty One" is a subtle dance floor shuffler with the depth of musicianship, arrangement and production rarely found these days. It's one for the connoisseurs, as is the new album "The Wanderer" on which Laville steps up the tempo for a disco groove 'The City', delivers an ultimate slow groove "The Answer" and gives a nod to a classic in "What You Won't Do For Love". Class!
Rockie Robbins: "Good Life"
2019 was a very good year for Rockie Robbins. "Good Life" was the title of his first album for 34 years, his amazing show at The Jazz Café" was his first ever in the UK, and Expansion unearthed a previously unreleased A&M album from 1983 on which "Without You In My Life" became the most sought after soul recording living memory. We are still working on that. "Good Life" was recorded by Ricky Peterson in Minneapolis, remixed with additional horns and Boogie Back goodness in London. A feel good record of the year.
SolatiMusic: "Tell Me"
World Soul at it's finest, this time from Budapest with some help from Berlin. Pianist/composer Tzumo Árpád studied at Berklee College of Music taking lessons from Herbie Hancock! Herbie called him 'the greatest from Hungary'. He began SolatiMusic in 2016 with Kriszta Pocsai (vocals), Tomi Heilig (bass guitar) and German drummer Toni Snétberger (drums), "Tell Me" becoming a modern soul room dancefloor highlight in 2019 and an essential additional to this collection. Pick up to the rest of their album "Debut" on Bandcamp.
Tre Williams: "When I Get Back"
Tre began his music career in New York, his appearance at an Apollo talent show ultimately leading to an involvement with Nas on the "Hip Hop Is Dead" album and then an unreleased solo album for Nas' label Ill Will Records. Tre has sung and recorded with Brooklyn based band The Revelations since 2008 and released his first solo single for Soul Japan Records earlier this year, combined with "Looking For Love" on 7" single.
Steve 'Doc' Willoughby: "All My Life"
In 1978 singer songwriter Steve 'Doc' Willoughby recorded 'All My Life', under the direction of legendary producer, orchestrator and arranger Tony Camillo at Venture Studios in Somerville, New Jersey. He later formed his own production company releasing material on his own Grab Records. Steve is now the owner and founder of GotchaMusic.com and looks after Carnival Records, Fortune Records and Roy Robert's Rock House Records.