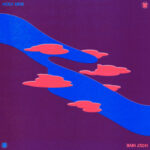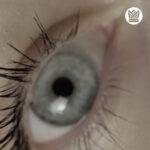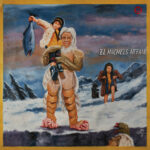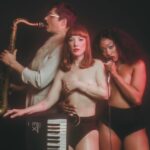 Leon Michels und Danny Akalepse. Seit 2016 gemeinsam für die Big Crown Records verantwortlich, nachdem sie sich bei Truth & Soul zusammengefunden hatten. Und während die eine Firma ihre Bestimmung in der Revitalisierung umfassender Retro-Soul-Sounds verortete, öffnete sich die andere dem weiten Feld der besonderen Soul + Pop + Folk + Funk + Dance + World Musiken. Leftfield statt Middle Of The Road. Und je mehr "left", desto besser. Aber nie aus reinem Selbstzweck, sondern stets im Sinne der guten Musik. 5 Jahre Big Crown, 4 (oder eigentlich nur 3) Titel aus dem aktuellen Sortiment, dass die Bandbreite der Label-Manager an den Tag legt.
The Shacks mit stete verwehtem Pop, immer verträumt und irgendwo im Nebel, aber eben auch von besondere Schönheit. Die aktuelle Single führt im Traum in ferne Länder – der "Trip To Japan" könnte endlos sein.
Bleiben wir in Asien – von Japan nach Indien führt uns der Leon höchstpersönlich, in dem er als El Michels Affair ein paar Alternativ-Versionen, Outtakes und Fundstücke aus den Sessions seiner "Yeti Season" zu einer weiteren EP namens "The Abominable" zusammenfasste. In bekannter Yeti-Manier geht's kreuz und quer, Ideen aus vieler Herren Länder treffen unvermittelt zusammen und ergeben sich in einem ganz eigenen Soundtrack. "Cham Cham" führt in den Sub-Kontinent. Piya Malik gibt sich die Ehre und macht den Bolly-Soul.
Zurück nach New York City. Genauer gesagt nach Brooklyn und damit zu Holy Hive, die ihre Stadt-Bienen im ruhigen Fluß des Lebens wieder ihre Arbeit verrichten. Gesammelter Süßstoff in Hülle und Fülle. Homer Steinweis (der ansonsten zwischen Funk und Soul und so trommelt) verleiht mit Klick und Klack die Songs des Trios eine gewisse Bodenhaftung, die im übermäßigen Schönklang der Vokal-Harmonien des Paul Spring eine essentieell Funktion einnimmt. Folk-Soul soll's sein, für uns ist's erst einmal der perfekte Soundtrack für eine mögliches Remake des "The Graduate" Klassikers des Mike Nichols.
Umschalten auf 79.5 – die Welle die uns direkt auf's "Club Level" führt. Ihr 2018er Album "Predictions" lief noch auf Big Crown, wurde von Leon Michels persönlich betreut und brachte uns die firmenspezifische Melange aus 100+1 Einfluß. Inzwischen offensichtlich als Trio aktiv, konzentrieren sich Kate Mattison, und ihre Freunde, auf den ganz gepflegten Disco-Groove. Feines Arrangement im 70er Tonfall und mit dezenten "Ride Like The Wind" Anklängen, darunter ein bequemer Beat und darüber fliegende Vokal-Sequenzen. Tanzen oberhalb von Zeit und Raum.