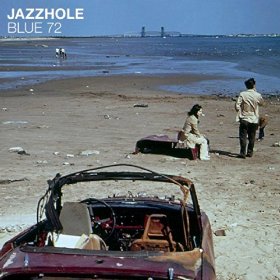 Ankündigung: Jazzhole sind zurück, ihr 7. Album nennt das Trio (der großartige Marlon Saunders am Mikrofon, dazu Keys von Warren Rosenstein und John Pondel an der Gitarre) "Blue 72". Warum? Es geht um Songs, die in jenem Jahr die Radios dominierten und, wie die 3 ausführen, durchweg von einer gewissen Melancholie und Traurigkeit durchzogen sind. Erste Höreindrücke sind vielversprechend ("A collection of mostly sad songs from 1972, revisited with a unique Soul / Jazz / Bossa Approach") – mehr dazu in allernächster Zeit.
Info: www.jazzhole.net
Übrigens – Boz Scaggs hat "Lowdown" natürlich 1976 eingesungen – die Jazzhole Variante stimmt aber schon ideal auf "Blue 72" ein.